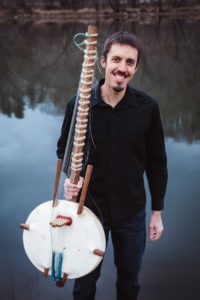 A.K. Smiley Library invites you to an encore performance of Music of the West African Kora, presented by Sean Gaskell, on Tuesday, January 17 at 6:30pm at the Contemporary Club.
This program will include a performance and educational demonstration on the kora, an ancient 21-stringed harp with a long neck. The kora is traditionally played by West African oral historians known as Griots, also known as Jalis or Jelis. The soft, melodic sound of the kora often stands in contrast to the themes of the songs, which recall times of war, hardship, love, and loss throughout the history of Mande society.
Sean Gaskell has been studying and playing the kora since first hearing a performance in 2006. What began as curiosity led to a global education and busy career. He has spent time in Brikama, Gambia, West Africa, learning from traditional kora masters Moriba Kuyateh and his father, the late Malamini Jobarteh. Mr. Gaskell has presented adult, youth, and family programs at over 350 libraries and a multitude of K-12 schools, colleges, universities, and assisted living facilities throughout the United States and Canada.
This will be Mr. Gaskell's third time playing for Smiley Library, and it's a program you won't want to miss. It's not often one has the opportunity to experience the music of this rare instrument and the fascinating history told through its songs. Families are welcome and no registration is required.