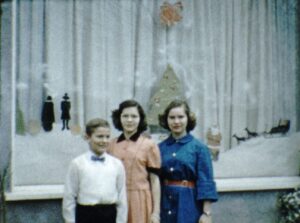 As we look toward a holiday season that is both familiar and yet, by necessity, different this year, we are given the opportunity to look back and reflect upon seasons past. When many think about historical materials, what often comes to mind are old, dusty documents and books, and yet the reality of the Archives at A.K. Smiley Public Library is anything but that. Just over a year ago, the Library embarked upon an exciting new project to digitize and preserve the 8mm, Super 8, and 16mm home movies that were so popular from the 1930s through the 1970s. Because of the expense of the medium, only those who could afford it were able to utilize it, but it also meant that it was reserved for the moments in life that were most important to the families capturing them. That often meant the excitement of the holidays.
Thanks to the families who have contributed their own family history to the Redlands Home Movie Preservation Project, Redlanders into the future can experience a slice of the holidays in motion, from opening gifts around the tree, to large family dinners and gatherings, to community events like the Redlands Christmas Parade. For example, Don Payne captured his family's Christmas celebration in 1954, replete with the excitement of opening presents that included an 8mm film setup. Twelve years later, the Ford family brought their home movie camera to record the 1966 Redlands Christmas Parade for posterity. In 1975, the Williams family documented the thrill – and exhaustion – of Christmas morning.
Whatever traditions we follow, films like these demonstrate the more universal values of family, togetherness, excitement, support, and generosity.
If you, family, or friends have home movies that help illustrate and tell the story of life in Redlands, please contact the Heritage Room at (909) 798-7632 or heritage@akspl.org. We hope you and yours have a safe and healthy holiday season!