Teens, on a scale of comforting to ultra-freaky, how disturbing do you like your reading materials? Are you more likely to pick up a book with cotton-candy on the cover, or say, a pool of blood? If your tastes fall closer to the crime scene end of the spectrum, you're in luck…one of the following YA titles may have your name—and your future fingerprints—on it.
"Murder Among Friends: How Leopold and Loeb Tried to Commit the Perfect Crime" by Candace Fleming is nonfiction; this book is about a real murder, and the wealthy teenagers who plotted it. The year was 1924 and Nathan Leopold and Richard Loeb looked like they had it all. They were both born into millionaire families, they were both supernaturally smart, and by many accounts, they both appeared to be charming, attractive, and well-mannered—if not slightly quirky—intellectuals.
So what made them carefully plan and carry out the murder of an innocent 14-year-old neighbor? Teens, I'm not going to tell you. Read the book yourself. From now on, just give me cotton candy! If bingeing true crime podcasts and documentaries is your idea of a good time, this real-life thriller—featuring a possible psychopath, an ice-cold homicide, and an explosive court trial—is for you.
Now that we're traumatized by reading about a real crime, let's learn how to solve them with Bridget Heos' "Blood, Bullets, and Bones: The Story of Forensic Science from Sherlock Holmes to DNA." You're probably already a crime scene analysis expert from all the episodes of "CSI," "Criminal Minds," "Cold Case,"  "NCIS", "CSI: Miami," "CSI: New York," AND "CSI: Cyber," you've watched, but maybe this book will offer something extra.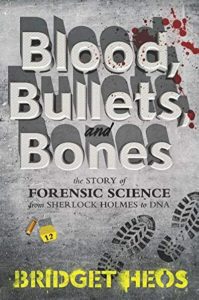 "Blood, Bullets, and Bones" explores the long history of crime scene investigation, dating back an astonishing two thousand years (CSI: Ancient China?) to today, and sheds light on the modern crime-solving techniques that have perpetrators shaking in their microscopic bad guy fibers. Although this nonfiction work will once again immerse you in real-life criminal activity, this time you'll be empowered with your new-found knowledge of blood spatter analysis and forensic anthropology.
Teens, these and more chilling true-crime tales await you in Teen Underground at A.K. Smiley Public Library. Come check them out…no need to cover your tracks. And it's not too late to get in on our Teen "All Together Now" Summer Reading Program…we'd love to have you join us for our free Teen Makers Open Hours event Wednesday, July 26, from 3-5 p.m. in the Assembly Room at A.K. Smiley Public Library. The event features a teen-led discussion on representation in YA Lit, bracelet-making, button-making, other-stuff-making, and more. Visit www.akspl.org/teens for more details and drop in if you're interested!
Kristina Naftzger is a Youth Services Librarian at A.K. Smiley Public Library, where her book selections often give her uncomfortable pits in her stomach, leading to a longing for a literary future filled with cotton candy instead of crime scenes.