Teens, are you fa-la-la-la-la-ing yet? I dusted off my elf suit extra early this year so I could recommend some Young Adult (YA) rom-com titles to get you in the holiday spirit. Cancel your subscription to the Hallmark channel immediately…we've got your romantic holiday media needs covered! AND, I have some pre-holiday surprises for you at the end of this article…read on and you can unwrap them early.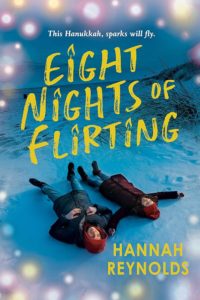 In Hannah Reynolds' "Eight Nights of Flirting," sixteen-year-old Shira Barbanel has her sights set on a holiday hookup. When her big and boisterous extended family convene at her grandparents' Nantucket home for Hanukkah, the scene is set for love…her great-uncle's tall, dark, smart, and handsome intern will be joining them and despite her past romantic flops, Shira is determined to do what it takes to get sparks flying.
There's just one problem. Despite Shira's go-getter attitude, she's a dunce when it comes to love. She makes a deal with her charming ex-crush-next-door-neighbor, who happens to be a flirting prodigy, to teach her his player ways. Surely nothing could go awry with this fool-for-love-proof scheme, right?! To find out if Shira gets the romantic miracle of her dreams, make plans to snuggle up with "Eight Nights of Flirting."
If holiday romances are your love language, don't stop with just one…put Tiffany Schmidt's "I'm Dreaming of a Wyatt Christmas" next on your list. Sixteen-year-old Noelle is crazy for Christmas. Ever since her mom died six years ago, she throws herself headfirst into the holiday season, keeping all of her mom's traditions going with a level of enthusiasm that borders on maniacal. But this year seems cursed…her festive plans keep getting thwarted, her dad is distracted to the point of ignoring her, and she's ready to throw her jingle bells out the window. To escape all the things that are making her un-merry, Noelle accepts a ski-trip babysitting gig with her favorite family.
What happens on this babysitting ski trip? It may involve getting puked on by a four-year-old. It may involve an obnoxious (but very cute) older half-brother who shows up on the ski trip out of nowhere. It may involve getting to the rock bottom of Noelle's manic quest for the perfect Christmas. If you're in the mood for something simultaneously sentimental and sparkly, with a dash of love, this may be the book for you.
And now, teens, for your early present…are you ready to rip it open? The library now offers video games for checkout! We have games for the Nintendo Switch, PlayStation 5 and Xbox Series X. If you want to expand your gaming repertoire, or even just try out a new game before you purchase it, come check one out to play on your home console. Video games are located to the right of the New Adult Fiction books, just behind the Adult Reference Desk. From "Kirby's Return to Dream Land Deluxe," to "NBA 2K24," we have a little something for everyone. So come get your holiday gift-receiving started a little early and borrow one!
We're also hosting a Barbie movie-watching extravaganza for teens on Wednesday, December 20, from 2-4 p.m., in the Contemporary Club. Iron your pink garments and prepare to join us! More information about this event will be available at www.akspl.org/teens in the coming weeks, so be sure to check back.
Teens, the library loves treating you year-round, but we especially hope to entertain you this holiday season. We wish you all things bright and jingly in the weeks ahead…stop in and we'll do our best to add a little extra sparkle.
Kristina Naftzger is a Youth Services Librarian at A.K. Smiley Public Library, who only wishes she owned an elf suit.