While our weather is cold and rainy, it is a great time to turn on the oven and bake up a storm! For some fresh ideas and new recipes, come to Smiley Library and sample our latest baking books.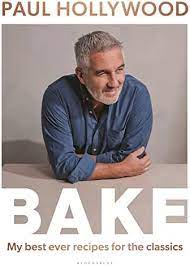 If you are at all familiar with the show, "The Great British Bake Off!," then you may recognize one of its judges, Paul Hollywood. "Bake: My Best Ever Recipes for the Classics" is Paul's hand-picked collection of ultimate favorite recipes. Home bakers of all skill levels will find new savory and sweet recipes to try. Every recipe is accompanied by one or more full-page color photos. Many of his choices hail from Great Britain, such as Victoria Sandwich, Barm Cakes, Bin Lids, and Iced Finger Buns, which are baked doughnuts filled with whipped cream and strawberry jam, then covered in a thin layer of icing. Paul includes a surprise dessert that is not destined for the oven. See if you can find this one unbaked treat. It will be worth the search.
Calling all dessert lovers, this next book is definitely for you! Claire Saffitz agrees that a meal isn't complete without a little something sweet. Her latest book, "What's for Dessert," seeks to satisfy our sweet tooth with 100 approachable recipes. Morning Glorious Loaf Cake is a delicious cross between a Morning Glory Muffin and a carrot cake. It is covered and filled with a maple cream cheese frosting. This might be served at brunch or as a snack with coffee or hot tea. Frozen phyllo dough gives Phyllo Cardamom Pinwheels and Honeyed Nut and Phyllo Pie their crispy, flaky texture, yet it also soaks up the butter, sugar, and honey. Nuts, popcorn, and caramel come together in a one-pan anytime treat Claire calls Caramel Peanut Popcorn Bars. Lastly, Blood Orange Pudding Cake is a creamy citrus dessert that needs no frosting and separates into two layers while it bakes. Serve with fresh sliced blood oranges on top.
When you hear the phrase 'comfort food,' what comes to mind? For some, it might be a warm frosted cinnamon roll, chocolate chip cookies, or a bowl of peach cobbler with vanilla ice cream. For others, it may be a fondly-remembered childhood meal, such as baked macaroni and cheese, chicken tamale pie, or a hearty beef stew with sour cream and onion biscuits. You can find recipes for all of the above and many more mouthwatering dishes in "Comfort Baking" by Stephanie Wise.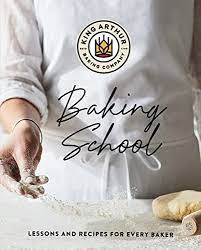 King Arthur Baking Company invites home bakers of all skill levels to join their next class. The company has a school campus located in Norwich, VT, and a second one in Skagit, WA. If you are unable to attend in person, then you'll want to check out their new book, "Baking School: Lessons and Recipes for Every Baker." A lesson in creating a sourdough culture will help you create Deli Rye Bread and Crispy Sourdough Crackers. The secrets to making a flaky pie crust, fluffy biscuits, rich moist cakes with creamy frostings, and buttery croissants that melt in your mouth are waiting for you within the pages of this book.