If you grow summer vegetables or are a lucky recipient of garden produce, then definitely stop by Smiley Library and check out our latest crop of cookbooks for new recipes and meal ideas. Here is a sampling of what's in store.
Chef, gardener, blogger, and author Luay Ghafari shares his passion for growing seasonal produce and creating tasty vegetable-forward recipes in his new book, "Seed to Table." Chapter 3 is where you can find Luay's recipes for Tomato Tart, Peach Panzanella-Style Salad, Pasta alla Norma, and several cocktails such as Paloma Picante. Chef Ghafari also includes tips and techniques for preserving your harvest to enjoy all year, like herb-infused salts, refrigerator pickles, and fermented hot sauces. Many of his recipes include a QR code so you can access further content from his website with your smart phone.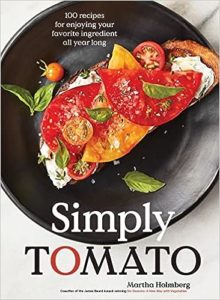 There's nothing like the sweet, juicy flavor of a home-grown tomato. Summer is the peak season for harvesting, sharing, and enjoying this edible gem. "Simply Tomato" by Martha Holmberg features 100 tomato-centric recipes that can be savored all year long. Familiar dishes like caprese salad, classic tomato soup, and fried green tomatoes are joined by Ravioli in Brown-Butter Tomato Sauce, Pasta with No-Cook Tomato Sauce with Feta, Mint, and Parsley, Roasted Green Tomato Salsa, and Braised Beef Short Ribs with Tomato, Dried Porcini, and Red Wine.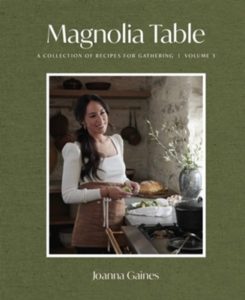 In the third volume of "Magnolia Table," Joanna Gaines encourages home cooks and bakers to slow down, savor, and enjoy the process of food preparation. Just like many restaurants, Joanna begins her book with bread. Warm from the oven varieties include Truffle Butter Rolls, French Bread, Garlic-Cilantro Naan, and Beer Bread. Fancy and casual main dishes like Seafood Paella, Beef Tenderloin with Mushroom Tarragon Sauce, and Chicken Cordon Bleu, as well as Smash Burgers, Chili Pie with a Golden Cornbread Crust, and Cheesy Baked Ziti can fulfill most all of your dinner plans. Other notable dishes to try are Bananas Foster Pancakes, Chunky Blackberry Applesauce, Bacon Butternut Squash, and Peach Pie Trifles.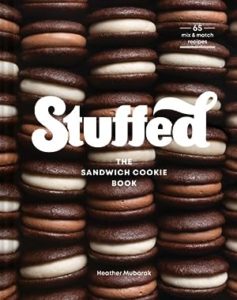 If one homemade cookie is good, then two must be better! Especially when they have buttercream frosting, ice cream, or chocolatey ganache in the middle. "Stuffed: The Sandwich Cookie Book" by Heather Mubarak gives us 65 delectable mix and match and filling recipes with color photos to tempt and delight dessert fans of all ages. A few of Heather's swoon-worthy pairings include Candy Cane Shortbread with Peppermint Buttercream and White Chocolate Drizzle, Chocolate Truffle Cookies with Whipped Nutella Ganache, Brown Butter Toffee Walnut Cookies with Bourbon Ice Cream, and Gingerbread Cookies with Pumpkin Spice Buttercream.