The ol' "Back-to-School" saying has arrived! Parents, teachers, and students rejoice, right?! Well, have no fear, the Young Readers' Room has a book to help your student with homework assignments or pleasure reading – we aim to please!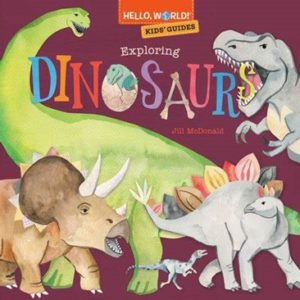 You can browse our non-fiction shelves for some interesting, educational reading, and peruse the New Book shelf for the newest selections. The non-fiction books in the Young Readers' Room range from early learners, such as first or second graders, all the way up to middle school students. Come in soon to find that 'just right' book! The suggestions below can be found on the "New Books" shelf.
We'll start with dinosaurs and go allllll the way back in time! Written by Jill McDonald, "Exploring Dinosaurs" will have your youngest paleontologist reading their way through this book in no time flat! Each colored page you will find not only written information, but a full-colored drawing of a dinosaur as well. Even cooler is the Stats section about each dinosaur. Find this book at J 567.9 M145e.
Shark Week has come and gone this summer, but we can always admire these great beasts through a book or two. Check out "Megalodon" by Kate Moening this week. Explanatory text will introduce you to this underwater beast from the Neogene period of the Cenozoic era, about 20 million years ago! The illustrations by Mat Edwards may have you double checking the pool, bathtub, and backyard for any unwanted guests! Find this book at J 567.3 M722m.
In keeping with, perhaps a tad scary for some, animals and such, you may enjoy checking out, "A Day in the Life of a Backyard Jumping Spider, Jumper." Written and illustrated by Jessica Lanan, this non-fiction treasure will have your youngsters exploring the smallest of spaces, searching for jumpers and imagining what life would be like, if they were just like her! The last four double-page spread contains single paragraphs of interesting information about jumpers. The final back pages contain a glossary, author's note, and a section of finding and identifying spiders with resources included. A treasure indeed, as we come to understand the lives of jumping spiders. Find this book at J 595.4 L22j.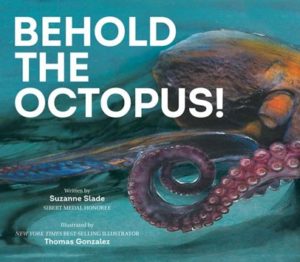 Heading back to the ocean, we'll discover Suzanne Slade's "Behold the Octopus." The left-hand pages declare a one-word adjective which is explained in paragraph form on each right-hand page. The illustrations have you feeling as if you are under the waves, in the ocean, discovering these incredible creatures. Perhaps a trip to the aquarium will result in your family plans after checking out this book! Please find this title at J 594.56 SL12b.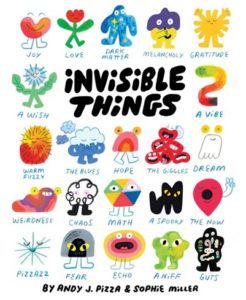 My final recommendation for books this week is "Invisible Things" by Andy J. Pizza and Sophie Miller. A fun, inviting, colorful book about senses, written at a third grade AR level, this book will be read over and over again. Complete with 'invisible glasses,' er, "invisible things" – spotting glasses that kids pick up on the very first page. A fun, intriguing book for kids; adults will enjoy looking through as well. Once you've finished the book, the end page reminds you to be responsible by stating, "Please return your invisible "invisible things" – spotting glasses here." Find this book at J 152 M612i.
Please let the Youth Services crew know which of these new books were your favorite… I know – I know; it will be hard to decide!