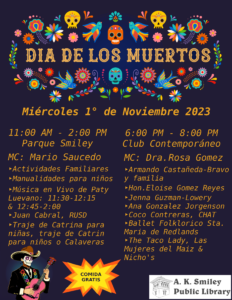 November brings celebrations for many cultures. Día de los Muertos is a Mexican and Latino celebration that is celebrated on Nov. 1 or Nov. 2 to honor the dead and welcome their spirits home for just one night. The day is meant to bring joy rather than sorrow as we remember our loved ones with fondness.
Smiley Library is pleased to welcome our community to help celebrate this tradition, which is over 3,000 years old. Join us Wednesday, November 1, for our third Annual Día de los Muertos community event. This year will consist of traditional crafts, dance, music, and food for families to enjoy together. From 11 a.m. until 2 p.m., Smiley Park, on the south side of the Library, will be adorned with families celebrating their departed loved ones by creating marigold flowers, sugar skulls for their ofrendas (offerings or, colloquially, altars), and a mini-ofrenda to take home.
We will also offer an evening program from 6 p.m. to 8 p.m. at The Contemporary Club, 173 S. Eureka St., Redlands, consisting of remarks by prominent members of our community, short speeches, a musical performance by a professional musician, and of course, Saint Mary's Ballet Folklorico of Redlands.
Please visit our website or social media pages for more information:
www.akspl.org; Instagram: @AKSmileyPublicLibrary; and FaceBook: https://www.facebook.com/AKSmileyPublicLibraryRedlands