I can't believe that the holiday season is upon us! It seems like it was just yesterday that I was decorating my Halloween tree and drinking my first pumpkin spice latte of the season (yes, I have a Halloween tree that beautifully transitions to a Nightmare Before Christmas-themed Christmas tree). If you are not quite ready for the upcoming holiday season or you are ready with your peppermint mocha in hand, then here are few new titles from your favorite public library, A.K. Smiley Library.
If you are not ready to read holiday-themed books quite yet, may I suggest Phantom, by Helen Power. Regan Osbourne is in a tight spot–she's broke, in a bad relationship, and her art career is getting her nowhere. One night, desperate and fed up, a mysterious man approaches her with a proposition she can't refuse, one million dollars for one of her hands, her dominant hand to be exact. Regan agrees. Come and check out Phantom to see what happens to Regan and her missing appendage.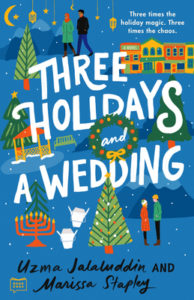 If you are ready to go all-in on the holiday season, I suggest to you Three Holidays and a Wedding by Uzma Jalaluddin and Marissa Stapley. Maryam Aziz and Anna Gibson are strangers, but fate has other plans for them. Both are flying home to Toronto, Canada for the holiday season until severe turbulence diverts their plane and plans and leaves them stranded in a picturesque town called Snow Falls where destiny has other plans for them.
If neither of these titles appeals to you and you want something more in the fairy tale realm, then I suggest to you, After the Forest by Kell Woods. After the Forest takes place 20 years after Greta and Hans escape the infamous witch who lived in a gingerbread house. While Greta was being held captive all those years ago, she took the witch's grimoire which holds magic spells that are more powerful than Greta can comprehend. Will Greta succumb to the lure of the grimoire to help her and the village which she grew up in, or will the villagers turn against her and her new found magical abilities?
So, come visit your favorite local library and check out these festive and not-so-festive titles for your reading pleasure.
-Shannon Harris is a library specialist who enjoys reading horror and holiday-themed books so much that she is currently reading a book called Christmas and Other Horrors.