Attention armchair adventurers, archaeology enthusiasts, history and literary buffs! There are some captivating non-fiction books currently on the shelves of the Smiley Library's New Book Section especially for you.
"The Ship Beneath the Ice: The Discovery of Shackleton's Endurance," is written by maritime archaeologist Mensun Bound, the director of the successful expedition that found the sunken Endurance. Bound shares accounts of his team's attempt to locate the ship in 2019, the actual discovery in 2022, and also interweaves the story of Shackleton's ill-fated Antarctic expedition of 1914/1915. The wreck was located 10,000 feet under the Weddell Sea 100 years to the day after Shackleton's death. Photographs add to the captivating narrative, including pictures of the undersea wreck.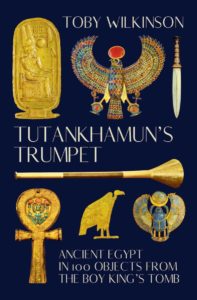 Photographs also beautifully enhance Egyptologist Toby Wilkinson's "Tutankhamun's Trumpet: Ancient Egypt in 100 Objects from the Boy King's Tomb." One hundred years after Howard Carter discovered and excavated the elaborate tomb in 1922, Wilkinson highlights a select few of the more than 5,000 artifacts recovered, and uses those as a basis for discussing Egyptian history, civilization, and a glimpse of the human experience of Tutankhamun's world. Some of the items included are a golden chariot, food, jewelry, games, weapons, shaving tools, and a silver trumpet.
"Gentleman Bandit: The True Story of Black Bart, the Old West's Most Infamous Stagecoach Robber," is by bestselling author and historian John Boessenecker. Charles Boles was born in England in 1829, but later lived in San Francisco as a wealthy and educated socialite. The respectable company he kept had no idea that this genteel, non-drinking man was actually the very successful stagecoach robber that eluded authorities for many years. Charles, aka Black Bart, committed 32 stagecoach robberies, never stealing from the passengers, only taking the mail and Wells Fargo strongboxes. A careless mistake led to his arrest in 1883 and imprisonment in San Quentin. He pulled off a few more holdups after his release and then disappeared in 1888, leaving a mystery as to his demise.
"Mystery of Mysteries: The Death and Life of Edgar Allan Poe" explores the possible causes of the unexplained early death of the famed literary master of the macabre by taking a close look at his difficult life. Author Mark Dawidziak challenges some of the myths of Poe's life and theories about what befell him in the unexplained three days prior to his demise.