While Smiley Library has outstanding graphic novels in the children's, young adult, and literacy collections, our adult circulating collection has amazing additions, as well. Encompassing both fiction and nonfiction titles, graphic novels have a lot to offer for all ages. You can learn history expressed through engaging storylines, revisit old classics told in a unique way, escape through fantasy, or laugh at comedy. These books are an appealing way to explore important topics too, and their focus on character development along with striking drawings make them a joy to read. Here are some of our latest.
"Hakim's Odyssey" by Fabien Toulme is based on the true story of Hakim, a young Syrian gardener and nursery owner, whose future was looking bright until civil war encroached upon him, his family, and country. In 2011, as growing protests for more freedom arise in the streets, President Assad reacts with extreme violence and lethal force. Hakim is falsely imprisoned as one of the rioters and thrown in jail. Beatings ensue and when finally released, Hakim finds out his nursery has been seized by the army and turned into a barracks. Amidst the loss of his income, the growing chaos of war, and his brother's mysterious disappearance, Hakim is forced to flee his home and family. This engaging story of war, struggle, survival, and hope is told in a series of three books: Book 1: From Syria to Turkey, Book 2: From Turkey to Greece, and Book 3: From Macedonia to France.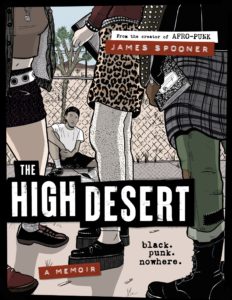 "The High Desert: Black. Punk. Nowhere." is James Spooner's coming-of-age memoir of his time living in Apple Valley in the late 80s and early 90s. As a Black teen struggling to fit in to a predominately white community, Spooner feels like an outsider. He looks for a place where he can be himself, forge some friendships, and maybe even find a girlfriend. Unfortunately, what he finds is bullying, racism, and unacceptance. Eventually, he meets others who are into punk music and skating and discovers a new form of self-expression, identity, and a feeling of belonging. Spooner takes a personal look at the Afro-Punk subculture, being raised by a single white mom, prejudice, drugs, and school dynamics. He tells his story with authenticity, reflection, and insight.
If you find yourself laughing at the movies Planes, Trains and Automobiles, Roxanne, and The Jerk, you'll appreciate Steve Martin's new book, "Number One is Walking: My Life in the Movies and Other Diversions." Martin has made over 40 films and the first half of his book highlights anecdotes and escapades from some of the most popular, along with comic illustrations by Harry Bliss. Meet familiar names like John Candy and Diane Keaton. Bliss's dog, Penny, has a lot of features along the way, too. The second half of the book is filled with single panel comics from Bliss. A short, fun book for fans of Martin and Bliss.
Here are a few other new titles to consider. "Lore Olympus" by Rachel Smythe is a contemporary and satirical take on the story of Persephone and Hades, "Invisible Wounds" by Jess Ruliffson examines the effects of war on veterans, and "Always Never" by Jordi Lafebre is a love story that starts at the end and works towards the beginning.