Music lovers, take a collective breath. I'm going to inundate you with our latest music books and biographies. Smiley Library gets new titles in all the time. I've previously featured our jazz, rap, classical, and country genres. This time we'll look at rock, pop, and folk. Let's get going.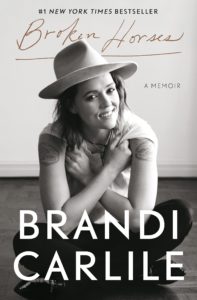 One of my favorites is "Broken Horses: a Memoir" by Brandi Carlisle. Not only has this singer-songwriter won nine Grammy awards, but her story is such an interesting and honest read. I listened to it on audio after downloading it from the Libby app. Raised in rural Ravensdale, Washington, she started singing at a very young age and decided to make music her career. From club gigs to collaborations, follow her musical journey as she finds inspiration along the way in her bandmates, "The Twins," and the music of Joni Mitchell and Elton John. Friends, family, faith, and her personal story shine throughout. Narrating the audio version, you'll sometimes hear her tune her guitar and break into song at the end of a chapter. Your very own private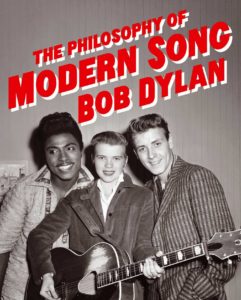 concert.
Numerous books have featured and analyzed Bob Dylan's lyrics. In fact, we have some titles in our collection which focus on just that. "The Philosophy of Modern Song" by Bob Dylan takes a different approach. Dylan himself examines over sixty popular songs of his choosing from other artists, like Elvis Costello, Dean Martin, and The Clash. Each song receives Dylan's very unique and often times humorous interpretation, including a little background history. There are some iconic retro photographs and graphics along the way too.
This is a weird segue, I know. Has anyone watched the Netflix series Peaky Blinders or the movie Scream? Well, then you've heard the next artist and may not have even realized it. The song, "Red Right Hand," by Nick Cave and the Bad Seeds was used in both. A highly admired artist and songwriter, Cave's music has been described in all sorts of ways: intense, insightful, emotional, intellectual, religious. "Faith, Hope and Carnage" is a conversation between Cave and journalist Sean O'Hagan. Not just a conversation, it's an insight into Cave's creative process, his outlook on life, loss, the death of his son, Arthur, grief, God, and hope. Eloquent and candid.
I'm just going to list a few more titles here. You'll definitely find familiar names among them.
"Be My Baby" by Ronnie Spector, "Loud: A Life in Rock 'n' Roll by the World's First Female Roadie" by Tana Douglas, "Mirror in the Sky: The Life and Music of Stevie Nicks" by Simon Morrison, "Some New Kind of Kick" by Kid Congo Powers, "Song Noir: Tom Waits and the Spirit of Los Angeles" by Alex Harvey, and "Still Alright" by Kenny Loggins.