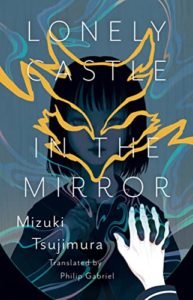 What would you do if you were given the chance to leave your current world and walk into a new one? That is the question faced by the protagonists of this week's What's New reads. All three find themselves in a new world and must figure out how to move forward.
A young girl finds friendship through her isolation in Mizuki Tsujimura's latest work, Lonely Castle in the Mirror. Kokoro avoids school by hiding away in her bedroom, avoiding the bullies that torment her, further isolating herself from the world. One day, the mirror in her bedroom begins to shine and Kokoro is transported to a mysterious mansion. There she meets six other teenagers and a wolf mask-wearing host who explains the rules. There is a room hidden away in the mansion and whoever finds it can have any wish that they want granted. But the mansion is not without its dangers, as severe punishments lay in store for those who break the rules. As the teenagers spend time together, and secrets are revealed, Kokoro finds that she truly is not as alone as she always thought.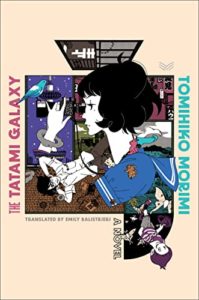 Absurdness abounds in The Tatami Galaxy by Tomihiko Morimi. After committing another prank on an overbearing club president, an unnamed college junior laments his life, feeling as though if he could do things over, his life would be so much better. He would avoid his friend and tormentor, Ozu, and finally get the girl, (or any girl really). After a chance meeting with a god, our narrator gets that opportunity. The narrator is sent back to being a freshman and is given multiple chances for a fresh start. Now having the absolute freedom to choose a new path, our narrator sets out to explore all of them. Through situations involving love dolls, giant swarms of moths, and cute bear keychains, Morimi ties all the paths together and shows that even with infinite choices, and a push in the right direction, our choices are ours to own.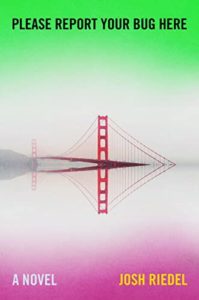 New technology results in a mystery in Josh Riedel's first work, Please Report Your Bug Here. Ethan spends his days filtering out inappropriate content in a new dating app called DateDate. Working in the new startup for his friend turned boss named the Founder, recently single Ethan has little time to engage in the outside world. Ethan looks for a connection in the app, but problems occur when the app sends him to another world. Armed with this new discovery, Ethan tries to warn the Founder, but with his eyes on being acquired by a corporation, Ethan's warning goes unheeded. Isolated in his quest, Ethan must figure out how the app is sending its users to the otherworld and how much the Founder and the Corporation really know about what's going on.
Transport yourself with these new otherworldly reads.