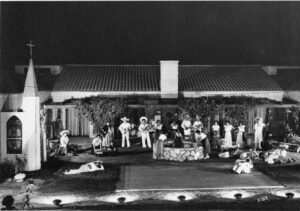 On September 9, 1932, El Aguila premiered at the Redlands House of Neighborly Service. Featuring the talents of members of the city's Mexican American community, the long-awaited stage production included beautiful costumes, a stringed orchestra, and sets complete with family heirlooms to provide an air of authenticity. Written by Redlander Bruce McDaniel, the play tells the story of
Estrellita and her beau El Aguila who is disguised as a bandit to avenge Estrellita's family.
Stars Luisa and Jose Munoz, the rest of the cast, musicians, and crew won rave reviews from spectators, which included theater directors from the Padua Hills Theater and Pasadena Playhouse. A celebration of Mexican culture, El Aguila went on to be staged at the Beaumont Bogart Theater and the Little Theater in Padua Hills the following year.
Photographs of the lavish sets and costumes are a part of the House of Neighborly Service Collection in the Library's Heritage Room.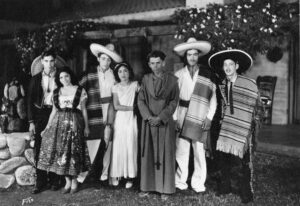 National Hispanic Heritage Month is observed September 15 through October 15 in the United States.