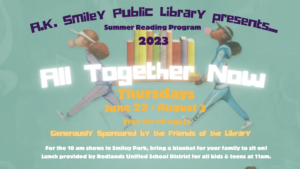 Join us for a spectacular summer line-up of entertainment for kids, teens, and families starting Thursday, June 22nd! Fire up your family's summer reading at our kickoff event Thursday, June 22, at 10 a.m. in Smiley Park. We'll start things off with a heart-pumping magic show by comedic magician extraordinaire Arty Loon, followed by a free lunch for children and teens provided by Redlands Unified School District Nutritional Services at 11 a.m. You'll even have the opportunity to visit with a special surprise VIP library guest (clue: she communicates only in "moo" code).

If you can't make it to the 10 a.m. show, no problem! Arty Loon will perform again at 2 p.m. in the Contemporary Club!

And don't forget to register for our summer reading challenge, where toddlers, kids, tweens, and teens will work together to reach our goal of collectively reading every single minute of the 2023 Summer Reading Program (a whopping 61,920 minutes). Can we do it? Only if we read "All Together Now!" Reading logs will be available beginning June 22nd.

Find our full schedule of summer events for children and families at www.akspl.org/yrr. From book giveaways, to opportunity drawings, to delightful entertainment, to free meals for kids and teens, and more, we have so much tucked up our sleeves for families this summer…join us!

Teens, we've cooked up some cool summer fun just for you too! Find our full schedule of summer events for teens at www.akspl.org/teens!