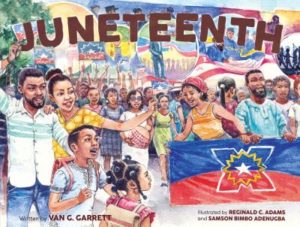 Juneteenth commemorates the day that the last of enslaved people in the United States were informed of their right to be free. Even though the Emancipation Proclamation was made effective in 1863, it could not be implemented in places still under Confederate control. As a result, in the westernmost Confederate state of Texas, enslaved people would not be free until much later. It wasn't until U.S. General Gordon Grainger, accompanied by 2,000 Union troops, arrived in Galveston Bay, Texas, and issued General Order #3 on June 19, 1865 that:
"The people are informed that in accordance with a Proclamation from the Executive of the United States, all slaves are free. This involves an absolute equality of personal rights and rights of property, between former masters and slaves, and the connection heretofore existing between them, become that between employer and hired labor."
Though Juneteenth has been celebrated in the ensuing years, it became a federal holiday in 2021.
Learn about "The Historical Legacy of Juneteenth" at the National Museum of African American History & Culture: https://nmaahc.si.edu/blog-post/historical-legacy-juneteenth, and check out our list of available books and e-books.
.