The season of holiday parties and celebrations has arrived! Halloween, Thanksgiving, Hanukkah, Christmas, Kwanzaa, and New Year's Eve will be here before you know it. Whether you are hosting Thanksgiving dinner for the first time or you are looking for a new appetizer recipe to bring to the office holiday party, Smiley Library can provide you with lots of entertaining ideas, tips, and recipes for an enjoyable holiday season.
First-time and veteran holiday gathering hosts will appreciate the wise advice and practical information given in the form of flow charts, timelines, check lists, and menu ideas designed to ease those pre-party jitters. Turn to "Eatertainment" by Sebastien and Sheila Centner, "The Dinner Party Project" by Natasha Feldman, and "Company" by Amy Thielen so you can reap the benefits of their expertise and enjoy your own party.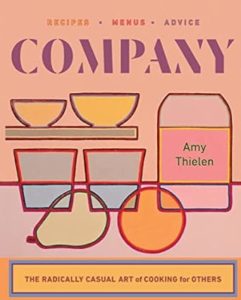 The holidays are a traditional time to bring out tried and true family recipes. There are certain dishes that must be present, otherwise the meal isn't complete. For Miranda Lambert's family, they look forward to having Nonnie's Thanksgiving dressing, sweet potato casserole, giblet gravy, and pumpkin spice coffee creamer. Miranda shares these family treasures and many more recipes plus family stories in her new book, "Y'all Eat Yet?"
Fun, creative, easy to eat, and perfectly portioned bites are a few of the ways to describe a platter of appetizers. "Brilliant Bites" by Maegan Brown presents an array of 75 festive finger foods suitable for your next gathering. Some of her holiday-themed appetizers include noodle wrapped mummy meatballs, colorful monster cookie balls, no-bake pumpkin pie bites, Thanksgiving cracker bites that resemble turkeys and cornucopias, and chocolaty midnight kiss cookie bites coated in sparkling sugar.