Teens, this week is Banned Books Week, a time when libraries across the U.S. affirm and celebrate your freedom to read. Every year, the American Library Association's Office for Intellectual Freedom releases a list of its top ten most challenged books for the year and guess what? Young adult titles invariably dominate the charts. Congrats, teens (ha)! Last year was no exception. YA titles like "Stamped: Racism, Antiracism, and You" by Ibram X. Kendi and Jason Reynolds, "Speak" by Laurie Halse Anderson, "The Absolutely True Diary of a Part-Time Indian" by Sherman Alexie, "All American Boys" by Jason Reynolds and Brandon Kiely, "To Kill a Mockingbird" by Harper Lee, and "The Hate U Give" by Angie Thomas all made last year's list.
The truth is, these books (and many, many others) may indeed contain parts that offend you. They might use language or deal with topics that make you cringe. They might very literally say things that hurt you. It's not that librarians think every book ever written is worthy of praise and your time. We find some books offensive, even repulsive, and we might secretly wish no one would read them.
But (and this is a big "but") we do believe that you should be able to seek and receive information from all points of view without restriction, a.k.a. enjoy what's called intellectual freedom. It's one of the core values of librarianship. We believe that it is your job/privilege/responsibility, in collaboration with your families, to determine what is right for you to read, and we believe that about every single person. And because everyone is different, with different values and different political viewpoints and different thresholds for revulsion, we resist censorship in all its forms. Basically, library workers are like glasses-wearing superheroes who passionately defend your right to read things that might make you sick (just kidding, we don't all wear glasses). You're welcome!
All that being said, let me tell you about some frequently challenged YA books that you may or may not want to read to celebrate this year's Banned Books Week.
"The Absolutely True Diary of a Part-Time Indian" by Sherman Alexie is one of the best books I've ever read. It's funny, it's heartbreaking, it's relatable, and according to the American Library Association, it gets challenged A LOT for several reasons, including "profanity, sexual references, and allegations of sexual misconduct by the author." This book definitely offers an opportunity for you to check in with your family and decide if it's a good fit for you.
The story is about Junior and his life on—and off—a Spokane Indian Reservation. When Junior leaves the "rez" to attend and play basketball at an all-white high school across town, he finds himself stuck between two worlds, and rejected by both. Junior is a victim, an outsider, a hero, a ruffian, a survivor…a lot of the identities many of us experience in high school, but on an exponential scale. If you like books that wrench your guts but still leave you hopeful, then this book might be one you are relieved to still find on the library shelf.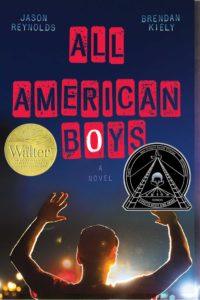 "All American Boys" by Jason Reynolds and Brandon Kiely, another of last year's most challenged books, is a story told from two perspectives. Rashad is sixteen when he is mistaken for a shoplifter at a corner store. The situation quickly escalates, misinterpretations ensue, and he is fiercely beaten by a police officer. Quinn Collins, Rashad's classmate, witnesses the scene, but feels conflicted about coming forward with the truth about what he saw, as the police officer is a close family friend.
Tensions boil as calls of racism and brutality echo through the community. This book explores the agonizing effects of one violent moment from the points of view of two American boys. According to the American Library Association, "All American Boys" was on this year's Top Ten Most Challenged list for "profanity, drug use, and alcoholism and because it was thought to promote anti-police views, contain divisive topics, and be 'too much of a sensitive matter right now.'"
Teens, in the American Library Association's "Freedom to Read Statement," they list a series of propositions designed to help librarians and publishers understand how to best protect your freedom to read. They write, "We do not state these propositions in the comfortable belief that what people read is unimportant. We believe rather that what people read is deeply important; that ideas can be dangerous; but that the suppression of ideas is fatal to a democratic society. Freedom itself is a dangerous way of life, but it is ours." We wish you free reading in the days ahead and trust you to think critically, even about those titles you decide to put down.
For more information about Banned Books Week, visit www.bannedbooksweek.org.