So, do you Dewey? That is, do you use the Dewey Decimal Classification (DDC) when searching for a book in the library? Do you hunt for books by the library-assigned numbers on the spines of nonfiction books? If you're hankering for something on the subject of, say, language, in which number section would you look?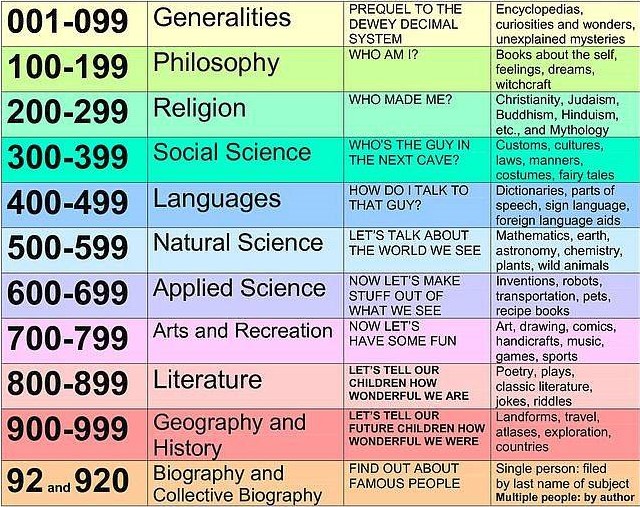 If you're not familiar with it though, you needn't worry; you can find what you want in the library, because you can search by subject in Smiley Library's catalog on its website, akspl.org. Or you can ask a librarian. However, if you'd like to browse on your own with a bit of purpose, it's helpful to get to know the DDC, broken down in numbers from zero to 999-plus into 10 general subject areas: Computer Science, Information, and General Works; Philosophy and Psychology; Religion; Social Sciences; Language; Pure Science and Mathematics, Technology/Applied Science; Arts and Recreation; Literature; and History and Geography.
If you are looking for a book on "Language," you'd browse the "400s" in most libraries. This small but glorious section brings to life the science of language—of any and all languages, from cuneiform to internet culture. There you'll find ideas about language structure, words, history of words (etymology), and even on the sounds that make up words (phonology). A lot of us who love books, also love words, and the 400s touch them at their roots. Language—the science (and art) of communication, is, after all, at the heart of a library.
Now I know what you may be thinking—it's all grammar–ack! You may say, "I've already learned what I need to know about it; it's boring; or I'm not going to check out a dictionary!" What if I told you that the 400s can be and are so much more. Do you like puzzles? Are you interested in trivia, current events, social issues, or learning a new language? Do you love history, or a juicy mystery? You can find it all right there.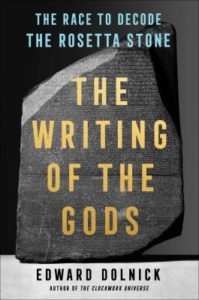 Let me see if I can change your minds with an introduction to a few of Smiley Library's newer acquisitions to Language. Let's start with one of humankind's most challenging puzzles detailed in The Writing of the Gods: the Race to Decode the Rosetta Stone by journalist Edward Dolnick. This year marks the bicentennial of the modern decipherment of the Rosetta Stone's Egyptian hieroglyphic writing. The Stone was discovered by Napoleon's soldiers in in Egypt in 1799, and the writings on it took 20 years to decipher amid what became a nationalistic rivalry. As gripping as any whodunit novel, Dolnick engages us with a quick pace, while all along bolstering our knowledge of the history of the culture and language from which the Rosetta Stone emerged. His treatise falls into the 490 section of the DDC, Non-Semitic Afro-Asiatic languages.
In the 460s you'll find Spanish language options, the newest of which is Short Stories in Spanish for Beginners by Olly Richards. That's right; the 400s offer language-learning aids too. The Library does provide materials in its Language Learning section (next to the books of International Languages), but aids like this short stories volume cross over to the nonfiction language section as well. (If you prefer online language-learning, the platform Pronunciator, which offers 75 languages to study, is part of our e-Library located on our website.) Short Stories in Spanish is well-designed for the reader to easily learn while enjoying a good story. It's meant for young and adult learners up to the intermediate level, and includes eight stories in various genres, from science fiction to fantasy, to crime and thrillers.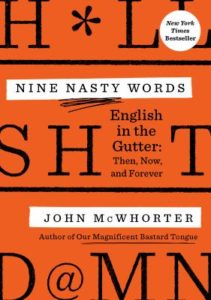 Another type of thriller, The New York Times bestseller Nine Nasty Words: English in the Gutter: Then, Now, and Forever is proving to be one of our more popular check-outs. Esteemed linguist and author John McWhorter explores how the use of profanity emanates from our flight or fight instinct and not from the speech centers of our brains. Besides the linguistic, he examines the historical, sociological, and political aspects of our need to 'let loose.' Find it in the 417s, Dialectology and Historical Linguistics.
To complicate your search somewhat, not all of the fascinating publications with 'language love' at their cores fall into the 400 section. Recent fiction book The Dictionary of Lost Words by Pip Williams is a delightful coming-of-age novel set within the history of the creation of the Oxford English Dictionary and the culture of the 1880s. On the other end of the spectrum is Because Internet: Understanding the New Rules of Language, also a NYT bestseller. A study by linguist Gretchen McCulloch, it examines the ways in which the inundation of internet use world-wide has caused mutations in language like never before. This little gem lives in the Library in the 302s, Social Interaction.
There are so many more books on language to love; I hope you are inspired to browse!
002 M732s  The Secret Life of Books: Why They Mean More Than Words. Computer science, knowledge, and systems: 002 The book (writing, libraries, and book-related topics)
152.4 K819d  The Dictionary of Obscure Sorrows. Psychology: 152 Sensory perception, movement, emotions, and physiological drives. A profound little book; poetically defines emotions that we all feel but don't have the words to express. A NYT bestseller.
303.34 H364t  Thank You for Arguing: What Aristotle, Lincoln, and Homer Simpson Can Teach Us About the Art of Persuasion. Social sciences, sociology and anthropology: 303 Social processes
400 W251s  Strange to Say: Etymology as Serious Entertainment
401.3 M258t  Talking Back, Talking Black: Truths About America's Lingua Franca. 401 Philosophy and theory: international languages. From John McWhorter, author of Nine Nasty Words. McWhorter demonstrates Black English as a legitimate American dialect by uncovering its complexity and sophistication, as well as the still unfolding journey that has led to its creation.
401.9 L939k  Keeping Those Words in Mind: How Language Creates Meaning. 401 Philosophy and theory: international languages
401.9 Se28m  Memory Speaks: on Losing and Reclaiming Language and Self. 401 Philosophy and theory: international languages. From an award-winning writer and linguist, a scientific and personal meditation on the phenomenon of language loss as an immigrant, and the possibility of renewal. 

421.52 Ok6h  Highly Irregular: Why Tough, Through, and Dough Don't Rhyme-and Other Oddities of the English Language. English and Old English: 421 Writing system, phonology, phonetics of standard English.

422 K521h  The Hidden History of Coined Words. English and Old English: 422 Etymology of standard English

423 D561  The Dictionary of Difficult and Unusual Words: Over 10,000 Confusing Terms Explained. English and Old English: 423 Dictionaries of standard English
423 W391we  Webster's New World College Dictionary, 2020 edition. English and Old English: 423 Dictionaries of standard English

425 D623f   A Few Words About Words: A Common-Sense Look at Writing and Grammar. English and Old English languages; 425 Grammar of standard English
425.55 B268w  What's Your Pronoun?: Beyond He & She. English and Old English languages; 425 Grammar of standard English
425.55 G335h  How to They/Them: a Visual Guide to Nonbinary Pronouns and the World of Gender Fluidity. English and Old English languages; 425 Grammar of standard English
425 K459i   The Infographic Guide to Grammar: a Visual Reference for Everything You Need to Know. English and Old English: 425 Grammar of standard English
427.974 W582y  You Talkin' to Me?: the Unruly History of New York English. English and Old English: 427 Historical and geographical variations, modern non-geographic variations of English
428.2 K162b  The Blue Book of Grammar and Punctuation: an Easy-to-Use Guide with Clear Rules, Real-world Examples, and Reproducible Quizzes. English and Old English: 428 Standard English Usage (Prescriptive linguistics)

428.2 M464e  Everyday Grammar Made Easy: a Quick Review of What You Forgot You Knew. English and Old English: 428 Standard English Usage (Prescriptive linguistics)

428.2 W332s  Semicolon: The Past, Present, and Future of a Misunderstood Mark. English and Old English: 428 Standard English Usage (Prescriptive linguistics)

428.4 J713p  Barron's Painless Reading Comprehension. English and Old English: 428 Standard English Usage (Prescriptive linguistics)
437 P916L  The Language of Thieves: My Family's Obsession with a Secret Code the Nazis tried to Eliminate. German and related languages: 437 Historical and geographic variations, modern non-geographic variations of German. Slang; Language policy; Political aspects.
492.1 F495c  Cuneiform. Other languages: 492 Afro-Asiatic languages. Cuneiform script on clay tablets is, as far as we know, the oldest form of writing in the world. The resilience of clay has permitted these records to survive for thousands of years, providing a fascinating glimpse into the political, economic, and religious institutions of the ancient Near Eastern societies that used this writing system. Written by British Museum curators. At the time of this book's publication, the British Museum had the largest and most venerable cuneiform collection in the world.

495.6 K837re Reading and Writing Japanese Hiragana: a Character Workbook for Beginners. Other languages: 495 Language of East and Southeast Asia
495.6 K837r  Reading and Writing Japanese Katakana: a Character Workbook for Beginners.Other languages: 495 Language of East and Southeast Asia