Spring is officially here and with it, comes the urge to take stock of what remains in our freezers and pantries. This is especially true if you have watched videos on social media and been influenced to clean and organize your kitchen. To help you thin out your supplies and make room on shelves, Smiley Library has an abundance of cookbooks to nourish you and help you achieve those kitchen Spring cleaning goals.
During the early days of the pandemic, we were all encouraged to stay home as much as possible. While at home, Noah Galuten and his wife, Iliza Schlesinger, started a live-stream cooking show. It was their way of reaching out and showing support while teaching viewers how to quickly create simple, comforting food. The "Don't Panic Pantry" cookbook includes all the recipes from their cooking show of the same name. Most of Noah's dishes are vegetarian such as Mozzarella Marinara, Green Rice and Black Beans, Fresno Chile and White Cheddar Cornbread, and Cold Sesame Soba.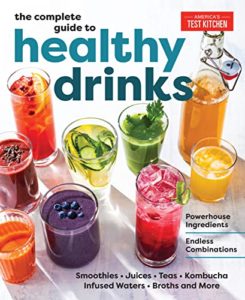 Green Apple Pie Smoothie, Pear and Vanilla Spritzer, Summer Garden Juice, Berry-Oat Smoothie, and Orange Creamsicle are a few of the refreshing beverages on offer in "The Complete Guide to Healthy Drinks" by America's Test Kitchen. Drinking homemade juices, smoothies, and infused waters is a delicious way to increase your fruit and vegetable intake while also using up your extra frozen and fresh produce.
The second selection from America's Test Kitchen is "The Complete Modern Pantry." Here, you will find over 350 creative ideas using ingredients that are ready and waiting in your kitchen cupboards. Wake up your taste buds with a crispy bowl of Maple-Pecan Skillet Granola. Bottom of the Box Pasta is a fun dish using a mix of leftover dry pasta shapes that are cooked and smothered in melted butter and cheese. When you have a craving for something sweet, whip up a batch of 3-ingredient Dipping Hot Chocolate. This yummy dip is perfect for dried fruits, pretzel rods, cookies, and spooning over ice cream.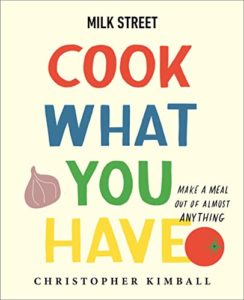 Christopher Kimball and his team at Milk Street have put together a practical and appealing collection of recipes in their latest book "Cook What You Have." Most of us probably have canned tomatoes, a bag of rice, frozen vegetables, and a box or two of dry pasta on hand. These common ingredients and others are the basis for over 200 creative and delicious meals. An overlooked bag of frozen shrimp can be turned into Curried Fried Rice with Shrimp and Pineapple or Tuscan-Style Shrimp with White Beans. There are over 30 recipes that call for canned tomatoes like Pinto Beans with Bacon and Chipotle, Pasta al Pomodoro, Tomato and Sausage Ragu over Polenta, plus Chicken and Tortilla Soup.