May was Asian American and Pacific Islander Heritage month. We can go ahead and extend the celebration just a little bit longer with these cookbooks from Smiley Public Library.
Spanning the Indian and Pacific oceans is an archipelago of 17,000 islands known as Indonesia. Some familiar islands might be Bali, Java, and Sumatra. Chef and author Petty Pandean-Elliott gives us a culinary tour in her book, "The Indonesian Table." With corn coming into season, do consider making Sweetcorn Fritters with Chilli and Tomato Sambal to go with barbecue burgers or steak. A familiar Indonesian dish is satay and one to try might be Pork Satay with Chilli, Ginger, and Lime. As a side dish, you can swap plain rice for Sweetcorn Rice, Turmeric Coconut Rice, or Village Fried Rice. Coconut Pudding with Palm Sugar Syrup and Roasted Cashews or Pineapple Biscuits would be a sweet ending to a tasty meal.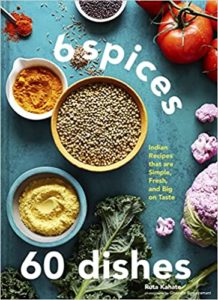 "6 Spices 60 Dishes" by Ruta Kahate gives home cooks an array of easy Indian fare to add new flavors to their everyday meals. The six spices Ruta features are asafetida, cayenne, coriander seeds, cumin seeds, mustard seeds, and turmeric. The majority of recipes are plant-based with many that are also Vegan and gluten-free. Pink Lentils with Kale is spiced with cumin seeds, asafetida, and turmeric and served over a bed of fluffy steamed rice. Other quick and fragrant choices are Indian Pineapple Curry, Tricolor Salad, and Golden Root Veggies Stir Fry. Meat lovers need not feel left out as Ruta has included a select number of egg, seafood, and meat dishes, too.
Grilled Shrimp and Mango Rice Paper Rolls, Spicy Oyster Mushroom and Lemongrass Stir-Fry, and Char Siu Roasted Cauliflower are a few of the tempting vegetable-forward dishes you'll discover inside Andrea Nguyen's latest cookbook, "Ever-Green Vietnamese." Soups, salads, and sandwiches are well represented and include recipes for Fast Vegetarian Pho, Confetti Broccoli and Herb Slaw, plus Steamed Bahn Mi Lettuce Wraps. For a little something sweet, there's Peanut and Sesame Candy, Vietnamese Mocha Cake, and refreshing Coconut-Coffee Pops.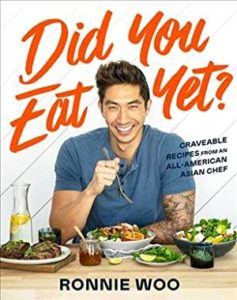 Caution: Don't look at this book on an empty stomach! If you do, you'll be twice as hungry as before. "Did You Eat Yet?" by Ronnie Woo pays tribute to his Asian heritage and his American homeland by presenting many crave-able familiar foods with an Asian twist. Teriyaki Rib Eye and Caramelized Onion Grilled Cheese combines crispy sourdough, and melted cheddar with slightly charred onions and thinly sliced steak in a homemade teriyaki glaze. More comfort food favorites are Red Curry Mac 'n' Cheese, Crispy Hot Honey Baked Chicken Wings, and Blistered Miso Butter Green Beans with Crispy Fried Onions. For breakfast or anytime, there's Fluffy Baked Vanilla Souffle Pancakes topped with a dollop of butter and maple syrup.