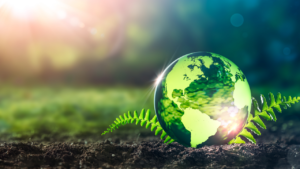 As I'm writing this from the Library, I am so thankful to be able to look out the window at the green space of Smiley Park around us. Not all of us are so lucky as to be able to experience an expanse of living and breathing grasses, plants, and trees at our places of work, or even at our homes. Though the Park is not as huge as, say, a national park, it does its job and provides a healing respite for us, even those of us just looking out the window at it.
In the spirit of this respite, ahead of Earth Day on April 22nd, I'm featuring Smiley Library's newest books on our national parks. Our 63 parks are treasures which a lot of us may not make the time to visit, but which really should be experienced—they hold such grand magnificence! The more we get to feel mountains of earth beneath our feet and the warm sun and whirling wind on our skin, the more we get to breathe in deeply the fresh aromas of nature and listen for the trickling, falling, gushing of water, and to get to spy—just the vast, open space! — and the variety of creatures who live within the ecosystem of a national park, the more we will fall in love with the natural world which supports us, and the more we'll be inspired to care for it. It's ultimately our home, after all. And it's what Earth Day is all about.
I'm really looking forward to Guardians of the Valley: John Muir and the Friendship That Saved Yosemite, by bestselling author Dean King (Skeletons on the Zahara), now available at the Library. Naturalist John Muir, known as the founder of the Sierra Club, was an author and environmental philosopher, and an early advocate for the preservation of wilderness in the United States. King's account describes how Muir evolves from "self-styled hobo" to fervent advocate with the help of his longtime editor and friend, Robert Underwood Johnson, magazine editor and pragmatic 19th century influencer. In a visit to Yosemite in 1889, they were horrified to witness great destruction to the land from damming, logging, grazing, mining, and tourism. The ying-yang balance of their personalities became the catalyst that saved the landscape of Yosemite, made it a national park, and heralded in the U.S. environmental movement.
Fast-forward half a century to the setting of journalist Nate Schweber's This America of Ours: Bernard and Avis DeVoto and the Forgotten Fight to Save the Wild. Engaging from the very first page, it reads as a novel in which the DeVotos are superheroes in the making. Yes, superheroes were still needed to defend our open public lands from greed and corruption. Prolific writer Bernard and his wife and editor, Avis, took on the fight and ultimately were censored and blacklisted in the 1950s, but came back with a grassroots coalition to help save our national parks.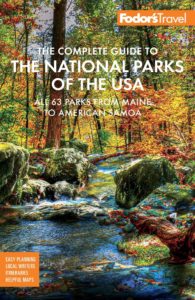 Others resources for park visitors include:
Yosemite, Sequoia & Kings Canyon National Parks, by Michael Grosberg;
Fodor's Utah: [with Zion, Bryce Canyon, Arches, Capitol Reef & Canyonlands National Parks], by Shelley Arenas;
Fodor's the Complete Guide to the National Parks of the West, by Shelley Arenas;
Fodor's the Complete Guide to the National Parks of the USA, by Karen Anderson;
National Geographic Guide to the National Parks of the United States, by National Geographic Society (U.S.).
You may also want to look for Ken Burns' spectacular documentary on the national parks on PBS, or on a streaming platform, or his book in our catalog, The National Parks: America's Best Idea: An Illustrated History, by Dayton Duncan and Ken Burns.
And don't forget; Smiley Library patrons can now use their library cards to gain free parking while visiting over 200 California state parks. California State Library Parks Passes circulate for two weeks and are non-renewable.
As a reminder, the Library holds a lot more items on natural sites to explore, whether it's national parks, state parks, wilderness areas, hiking trails, particular flora and fauna, etc. For example, with our recent wet weather and the super blooms it is bringing, you may want to know more about wildflowers and where to find them; hopefully some are growing within these parks. Look for Yosemite Wildflowers: A Field Guide to the Wildflowers of Yosemite National Park, by Barry Breckling.
You may want to carry with you, as a nod to April being National Poetry Month, American Wildflowers: A Literary Field Guide, with which to serenade your companion among the wildflowers. A delightful compilation of diverse representation and works edited by Susan Barba, the offerings of writers who wax poetic on these elusive creations of beauty, are organized among a field guide and feature charming watercolors by Leanne Shapton.
♥ Celebrate Earth Day in Redlands on the morning of Saturday, April 22, by participating in your choice of a variety (dozens!) of hands-on events around town sponsored by ANCA (Accelerate Neighborhood Climate Action) and many other Redlands environmental organizations. Refer to www.redlandsearthday.org/ for more information, and to register.
♥ Donate books in front of Smiley Library on Earth Day, and at Redlands Community Center, from 9 a.m. – 11 a.m. "The 3 R's: Recyle & Reuse *Books* to Reduce the Carbon Fooprint!"
♥ Learn why so many have been observing Earth Day since 1970; take a look at "A Brief History of Earth Day," a short, enlightening PowerPoint presentation by ANCA member Andy Green, as well as our reading list post of books on environment-related topics.
Enjoy your time exploring our Great Outdoors!