The fall season is rapidly approaching, so what better way to celebrate spooky season than with some new horror titles from A.K. Smiley Public Library. 
Margaret and her husband Hal just bought their dream home, a beautiful Victorian house with a wraparound porch and sprawling yard. A few months go by and their dream house is slowly turning into a real-life haunted house when blood starts to drip from the walls. Carissa Orlando's "The September House" is a blood-chilling read that will keep you up at night.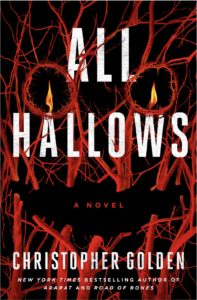 Halloween night in 1984, the children of Parmenter Road are gearing up for trick-or-treating, until they are met by a group of strangely dressed children, who are terrified and begging to be hidden away from a being called The Cunning Man. "All Hallows" by Christopher Golden will have you second guessing handing out candy this Halloween.  
Imagine a place where the residents are obsessed with the year 1994. They dress like it, and they watch the infamous O.J. Simpson car chase every night like it is happening in real time. Willow Stone discovers this strange and unusual island after finding out that her son has gone missing and the only hint of his whereabouts are two words: Clifford Island. "Dead Eleven" by Jimmy Juliano will leave you weary of strangers. 
So, turn your lights down low and prepare yourself for a scary good time with these books from A. K. Smiley Public Library.  
Shannon Harris is a phobophile who moonlights as a Library Specialist.